Your POS System...
#Integrated
Todays businesses require a POS solution that's fast, secure, redundant, and supports the latest payment technologies including EMV and NFC/Apple Pay™.
At Merchant Doodle we offer affordable POS and payment solutions that deliver mobile and Quickbooks integrated functionality, seamlessly optimizing payment acceptance while increasing productivity and security.
Have your own POS system in place?  Merchant Doodles payment systems integrate with 99.9% of existing POS systems including all major online shopping carts.  +We handle the integration process for you 🙂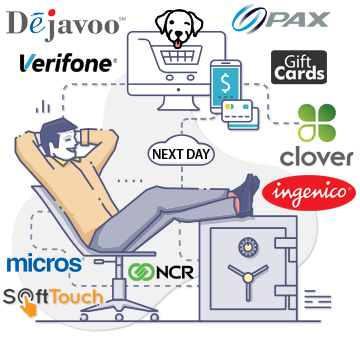 Integration with most major POS systems +additional functionality such as encrypted swipers, multi-tender transactions, email receipts, integrated gift card programs, and Quickbooks integration.

Endless design options, no hidden fees, and online reporting for your own custom-branded gift cards. +Accept brand-name gift cards in your store from most major big-box outlets and online retailers.

Do you have a personal cell-phone number to call or text for POS-related emergencies? We develop real relationships with our clients and provide extremely responsive customer service and 24/7 tech support.

More-than-Money... Save Time!
Saving money usually costs a lot of time. With Merchant Doodle, you leverage your processing fees & our technical expertise to save both.
+Get started in just a few minutes.
Recycle your Processing Fees
Getting more for your processing dollars just makes good business sense. Especially since it's not just money you're saving, but time.
What's your TIME worth?
| | |
| --- | --- |
| Payroll | Business Email+ |
| E-Commerce | Website Development |
| Web Hosting | Search-Page Ranking |