Your Payments...
#Personalized
At Merchant Doodle, our mission is simple.  Give our clients MORE for the fees you pay to process payments… each and every month.  You already pay these fees in addition to all your other business-related services.
To bring you more, our team is made up of talented, industry-leading experts in many of those other services… including online E-Commerce store creation, Payroll, and modern Web-Design.  We're even a Microsoft Partner and a Google Cloud Platform Developer 🙂
So we're here to help you recycle your processing fees by putting some of those dollars to work towards the other services you already use or need.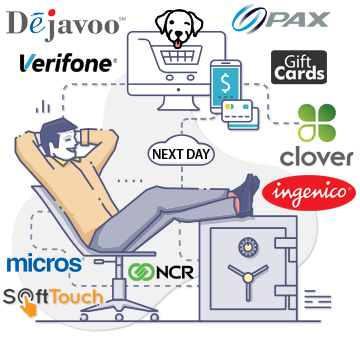 Ever wonder what your actually getting for all those fees you pay to accept payments? Saving 5 hours every month + 60% on payroll and 80% on your website with Merchant Doodle = Measurable Value.

Ever experienced unexplained price increases or rate-hikes? What about hidden junk fees on your statements? At Merchant Doodle we offer a straight-forward Rate-Lock Guarantee… period.  Full-Stop.

Do you have a personal cell-phone number to call or text for payments emergencies? We develop real relationships with our clients and provide extremely responsive customer service and 24/7 tech support.

More-than-Money... Save Time!
Saving money usually costs a lot of time. With Merchant Doodle, you leverage your processing fees & our technical expertise to save both.
+Get started in just a few minutes.
Recycle your Processing Fees
Getting more for your processing dollars just makes good business sense. Especially since it's not just money you're saving, but time.
What's your TIME worth?
| | |
| --- | --- |
| Payroll | Business Email+ |
| E-Commerce | Website Development |
| Web Hosting | Search-Page Ranking |